WHITE CONE cHAPTER   
Be'ak'id baa'aoogeed (Excavated For a pond)
The elders say that Be'akid Baa'a'oogeed was named after a local trader/ trading post manager who dug a well next to a local livestock pond; Which was needed for quality water to operate the White Cone Trading Post. Later, people began gathering for local community meetings in front of the trading post wall until a more permanent site for a meeting place was planned. The White Cone Chapter was first certified in 1957 and a facility for the Chapter House was built shortly thereafter.
The Chapter House was relocated to milepost 28 N-06 in 1988 with new housing additions along with a Western Refinery Giant gas and convenient store for the community with 24 hours services for the public. 
The community program service is the Senior Citizen Center that is provided for local elders. Additionally, Cedar Unified School District is operating White Cone High School at the previous site by the old trading post site, which is currently vacant. 
The White Cone Chapter conducts monthly meetings to keep residents informed; residents have a forum to express their opinions to their Navajo Nation Council Delegate or to decide on matters concerning their chapter.
The Mission Statement:
"It is the mission of the White Cone Chapter to provide a system of structured and organized growth for our community; to promote education and health; to ensure adequate economic development and community infrastructure and to be self-sufficient." 
The Vision Statement:
"It is our vision of the White Cone Chapter to ensure that the community is enriched with many values, traditions, and teaching of the modern and traditional lifestyle of our community." 
CHAPTER OFFICIALS
Robert E. Salabye, President
Linda M. Yazzie, Vice President
Lavida B. Maestas, Secretary/Treasure
Justin Yazzie, Grazing Member
Navajo Nation OFFICIALS
 Jonathan Nez, NN President
Myron Lizer, NN Vice President
Elmer Begay, Council Delegate
(White Cone, Greasewood, Indian Wells, Dilkon, Teesto)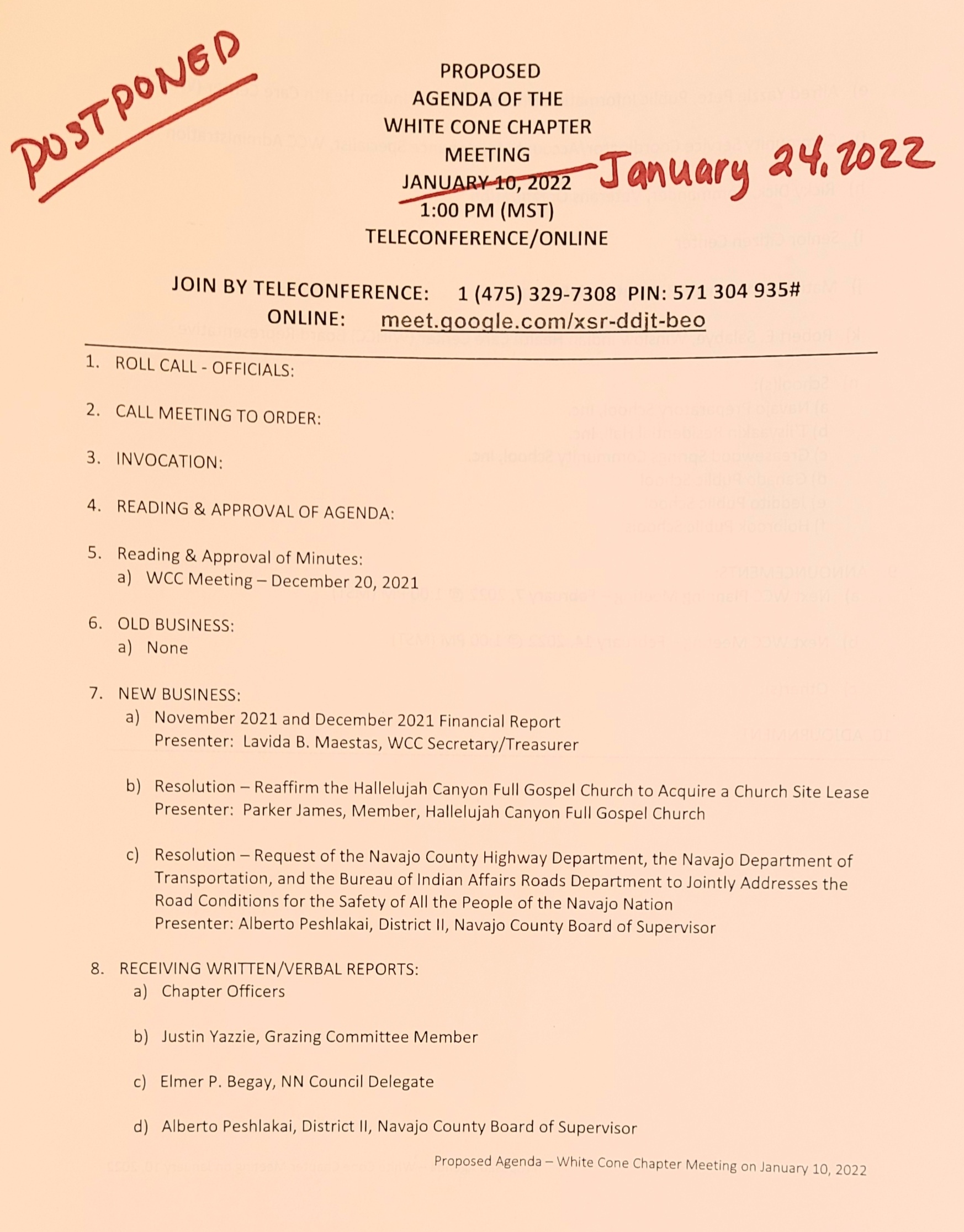 NEXT: Chapter Planning Meeting 
Monday, February 7, 2022 @ 1:00 PM
NEXT: Chapter Meeting
Monday, February 14, 2022 @ 1:00 PM (MST)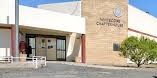 White Cone Chapter
Essential Service Hours
9 am -12 pm
Lunch
1 pm  – 4 pm
(DAYLIGHT SAVINGS TIME)
Adhere to CDC Policies
Protect the Health & Safety of all Employees & Community Members.
Wear face covering & Sanitize Hands.
NTUA/White Cone Chapter Watering Point is OPEN.
Operating Hours:
Monday – Friday
8:00 am to 5:00 pm (D.S.T.)
(When gates are open).
Get your Pre-Paid Card at Dilkon NTUA office.